Blog
5 Rugby GPS Tracking Hacks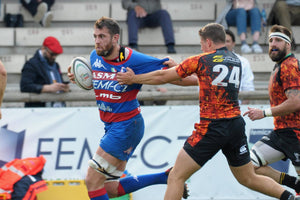 The 2019 Rugby World Cup kicks off in Japan today and it will be the first time the tournament will be held in Asia, bringing the world's top 20 national teams together to compete for the Web Ellis Cup.
Rugby is an intermittent high-intensity sport, characterised by repeated efforts including accelerations, directional changes, high-velocity running, and tackling. Consequently, preparing a team to perform at its full potential takes a considerable amount of planning, teamwork and communication. With the use of athlete monitoring systems, teams can use GPS data for the adequate load monitoring of players, ensuring they are match ready.
SPT met up with Iron Up Rugby Academy to discuss how they implement GPS tracking. Iron Up Sport specialise in athletic performance, teaching movement skills, building physical performance and preparing athletes to compete at a high level. Bradley Genova, Sport Scientist at Iron Up gives us his top five hacks when using GPS data:
1: Compare and Analyse impacts
Tackling is obviously a massive part of the sport and during a heavy tackle, players can sometimes be subjected to twice the amount of G-forces a F1 driver would experience when braking aggressively on the track.
In the 2015 Rugby World Cup, the highest amount of tackles made were by the South African Springboks with a total of 913 tackles in 7 matches. Springbok flanker, Francois Louw, made an impressive 77 of those during the tournament. This stat however does not come close to the number of impacts a player experiences during a game through being tackled, jumping, rucking, mauling and scrimmaging.
When analysing forces considered heavy (7g-8g) and above during a game, a back line player can average an impact count of 66 and a player in the forwards can average 170. The resultant body load experienced is important to analyse as it can influence the player's performance during the match as well their subsequent performances.
2: Track Wingers sprint counts
A winger needs to have a large amount of explosive power and acceleration as they will go long periods without a ball and then have to perform fast sprints and bursts of speed. The fastest player heading into this year's Rugby World Cup is Springbok, Sbu Nkosi. Nkosi was clocked at 34km/h and combining that speed with his elusive footwork, he is almost impossible to defend against at times.
Tracking a wingers sprint count in competition can help coaches and sports scientists to replicate these sprint efforts in training. By doing this, the players become conditioned to these efforts and reduces the risks of soft-tissue injuries.
3: Focus on Distance covered in each speed zone
"Distance covered per session, session duration and the distance covered in each speed zone" are the main point of interest explains Bradley. Analysing the distance in each speed zone is a quick indication of a players work load intensity.
By observing a players distance covered in various speed zones, a coach can then evaluate their players work to rest ratio and get an indication of the recovery times between play periods.
4: Understand the different player position demands and design training drills accordingly
The physical demands of a rugby player exist on a very wide spectrum. Each position requires specific demands and skills, therefore requiring position specific training. For example, a prop and a fullback will have completely different physiological profiles. As such, their demands during a game will differ. Typically a prop will clear rucks, scrimmage and perform short ball carries into contact, while a full back will spend a lot of time positioning themselves without the ball, kicking and performing explosive vertical efforts.
Effective training is all about efficiency. It is about making sure your training time is used to develop the skills each position needs to work on. At Iron Up Sport, Bradley puts his backs through a variety of agility, handling and acceleration drills compared to the forwards, where he focuses training around strength and endurance drills.   
5: Focus on Load Monitoring
"GPS helps us to manage load in training. We monitor their thresholds to keep players fresh for games" says Bradley. During training they monitor the performance data and this information is invaluable to the coaching staff as they can pick the optimal performing team at any given time.
Bradley explains that "the SPT GPS system has enabled Iron Up Sport to better quantify and measure the amount of load performed per session, which has also allowed for better prescription of training loads. We determine the amount of high speed running needed to be completed per session to ensure the athletes are maintaining similar metres covered week to week".  Monitoring player load prevents injury, creates more effective trainings and better game day outcomes.