Blog
Inside Lockdown with Australian Women's Lacrosse Part 1: Hayley Sofarnos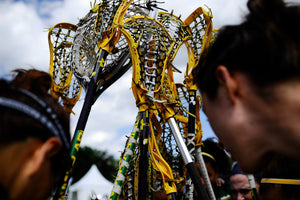 As restrictions begin to ease around the world, we have seen sport competitions resume and athletes back on the field. It's been over 2 months since many training grounds and public gyms closed, so the team at SPT wanted to find out how some of the most active people coped with the limits required to combat COVID-19.
We checked in with Australian Women's Lacrosse players, Hayley Sofarnos and Olivia Parker, to find out about their experiences training from home and their aspirations for when we come out 'the other side'.
Hayley has been playing the sport since she was 5 and has played for many successful state and club teams throughout her career as an attacker. The highlight of any athlete is to represent their country and Hayley has achieved this at both U19 level in 2007 and as a part of the Australian Senior team at the 2017 World Championships.
When it comes to adjusting to remote training, athletes and teams have taken a variety of approaches to try create some sort of normality.
"It's certainly challenging when you're used to physically training with teammates regularly throughout the week, whereas now, more often than not, we're training on our own, but overall I think everyone has adjusted well and continued to stay focused and work hard," says Hayley. 
"Our S&C Coach, Sean Baker of PEAQ Performance, has done a great job of pivoting our training to be more "iso friendly", particularly when it comes to strength sessions, and whilst we can't do our usual team trainings, it has been a great opportunity to really focus on individual skills within our own sessions, and our relationships and connections off the field."
When restrictions first came into effect, we all saw the mass purchase of toilet paper which was soon followed by gym equipment. This depletion saw many people and athletes, especially those below the topflight who do not have access to home gyms, unable to access the resources they needed to keep themselves in shape, so household objects became their equipment.
For Hayley, she was fortunate enough to be able to borrow some equipment. "It has certainly been a huge help in minimising the impact of how we can usually train. My husband also happens to have played for Australia, so that has definitely been a benefit to have a training partner everyday too."
The pandemic has also brought new ways communities have adapted to come together and stay connected.
"It's so great to see the creativity the broader community to stay connected whilst staying home, and the Australian Lacrosse Network (ALN) have done a great job of specifically keeping our tight knit community connected too," says Hayley.
"We have also had challenges within our team with a separate wall ball challenge, virtual workout buddies and just staying in touch with one another".
Like many athletes, Hayley's personal network have also been a huge support through the pandemic and an ongoing asset to her athletic career.
"I'm very fortunate to have worked with some incredible professionals - my long time Osteo and absolute legend, Matt Harris of Everything's Connected, as well as Andrea McIntyre of Embody Osteotherapy, Sports Dietitian Lou Heta, and I'm lucky to train out of phenomenal facilities at The Performance Club in Williamstown, which we'll hopefully have access to again very soon!"
Prior to the pandemic, Australia Women's Lacrosse invested in SPT GPS trackers for their players and this has been a big help to the coaching staff being able to keep the players on track remotely.
"Our SPT GPS units have been a fantastic, and timely addition, to our preparation. It allows us to track our load like we've never been able to before to ensure we're not only getting our sessions in, but also not overtraining. It's still early days for us in how to maximise the capabilities of this new technology, but we're excited by what it has already been able to do for us, particularly in iso," explains Hayley.
The lacrosse scene was brewing up to be an exciting one in 2020 with the Australian Lacrosse Association National Championships meant to take place in April before COVID-19 put this to an abrupt end but this has not dampened Hayley's thoughts for the future.
"It's certainly disappointing not to have been able to continue our preparation as initially planned, however obviously this is so much bigger than ourselves and our sport, and we've had to just lean into the new opportunities that this has presented us," says Hayley.
"We have an incredible team of staff who have guided us through our new look program, for as long as that lasts, and ultimately, we'll just continue to train hard with our focus locked on the 2021 Women's World Championships in July 2021, regardless of what may or may not be possible in the meantime."
Click here to talk to the team and learn more about how your team can use SPT technology to ease the route back to competition and reduce soft tissue injuries.