Blog
Lacrosse U.S. National Teams Partner with SPT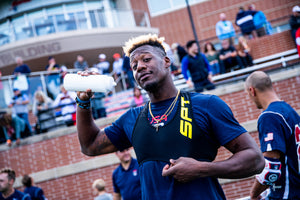 The U.S. National Team Program is adding Sports Performance Tracking (SPT) GPS technology to its toolkit to help train the nation's premier lacrosse players. SPT becomes the official on-field performance tracking device for the U.S. national teams.
"The U.S. National Teams Program decided upon the SPT technology for two simple reasons: One, it provides basic, essential data to track the training load on the athletes. Two, the data will be analyzed over time and will enable our strength and training staffs to evaluate and update our training sessions to provide maximum results," said Skip Lichtfuss, Director of National Teams and High Performance for US Lacrosse.
"US Lacrosse is the thought leader and authority for lacrosse in the United States," said Will Strange, CEO of Sports Performance Tracking. "SPT is proud to partner with one of the fastest-growing sports and this marks our first big move in the area as the leader in player tracking and sports GPS. After being selected as the right product, providing accuracy, but also simplicity, for the men's, women's and youth lacrosse players across America, we believe this is just the beginning for the sport."
SPT GPS technology tracks physical output from both a team and individual player perspective with metrics such as top speed, total distance covered, intensity, and player workload. Lacrosse coaches can use the performance data recorded by SPT to make more intelligent training decisions that will ultimately improve player/ team performance and reduce the risk of injuries.
The SPT2 GPS is the smallest and lightest team GPS Device in the market and the GameTraka App provides real-time actionable data at users' fingertips, allowing coaches to make the right decisions when it counts.
Coaches and athletic trainers can also use the data to design rehabilitation programs for injured players. By managing their output, coaches can ensure their athletes are fit enough and are physically prepared for the intensity of a game.
The U.S. team will use the technology for the first time when the 2019 U.S. Women's U19 Team holds a training weekend at US Lacrosse headquarters in June. The national teams will continue to use the technology at subsequent training events and eventually with the National Team Development Program.
For more information on the SPT tracking system and how to implement it in your team, click here to get in touch.