Blog
Movement Demands of Rugby 7s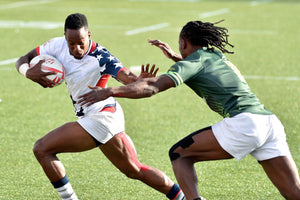 The 2020 HSBC Sevens Series is at its midway point with powerhouse Fiji winning their first title of the season in Sydney this past weekend. New Zealand are however showcasing yet again, how dominate they can be in all rugby codes with both Men's and Women's sides currently holding top spot in the overall series standings.
The physical demands of Rugby 7s are quite different from those encountered in other rugby codes with an increase in overall running demands, augmented high-intensity running actions and reduced work-to-rest ratios.
Rugby 7s is played on a full-sized pitch and with most games being played in a tournament format, players may participate in several games within a short period of time. The cumulative effect of exercise loading as a result is thought to be hard, similar to that experienced during strenuous anaerobic exercise training.
The training regimes of strength and conditioning coaches need to meet these demands which consist of a high volume of resistance training and anaerobic and aerobic conditioning, leading to high levels of perceived fatigue.
In such a fast-paced game with minimal stoppages in play, there is an extremely quick transition of the ball from attack to defence phases and vice versa. As a result, the work-to-rest ratio of 7s players are substantially lower than those of other rugby codes. According to a study on time motion-analysis, 7s players on average experience a ratio of 1:0.5, meaning for every minute of work, the player has 30 seconds of rest. In comparison, other rugby codes ratios range from 1:4 to 1:2.
Rugby 7s players are also often required to sprint over distances longer than 40m at maximal efforts, it is therefore important to develop this component of fitness during training. Specific sprint training should reflect these demands and both short (≤20 m) and longer sprints (30-50m) are important to mimic the demands of the game.
Data suggests that 7s players complete approximately 45% greater relative running volume compared to players of the 15-aside game. These findings provide insights for the S&C coach when they are preparing to plan training aimed at developing physical and physiological qualities specific to the demands of competitive 7s Rugby. Conditioning should take into account the increased overall running demands, which reflect high-intensity running training and an emphasis on reduced work-to-rest ratios.
As the series moves on to Los Angeles, we look forward to seeing these amazing athletes continue to push the limits.
To learn more on how SPT GPS tracking can be used to monitor your athletes, click here.
Reference:
https://www.ncbi.nlm.nih.gov/pmc/articles/PMC3445645/#CIT0004