Blog
Repeated-Sprint Ability of Hockey Athletes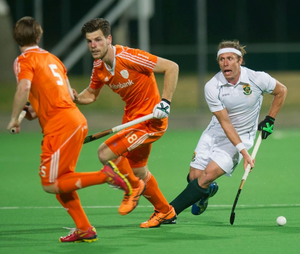 Hockey is a game that has recently undergone significant modification. The introduction of artificial turf in the 1970s changed the pace and style of the game and the introduction of various rule changes modified the game. In turn, these changes have evolved the physical demands of hockey athletes and their need to have a high repeat-sprint ability. 
The two most significant changes to the game of hockey in recent times (mid-1990s) have been to allow unlimited substitutions and the removal of the offside rule. These changes have markedly altered the tactical and apparent physiological requirements of the game.
Unlimited substitutions are responsible for the average athlete game time being 48mins. The timing and organisation of substitutes can significantly affect overall physical outputs of a team during a game. Regularly rotating strikers, inside forwards and the centre half will allow for maintenance of high intensity work throughout the game, particularly towards the end of each half. Overall work-rate is increased by approximately 5% with rotating substitutes.
In the hockey game, the duration of the game and the distance run by hockey players demand a high aerobic contribution to their energy supply. Hockey also involves short, more intense periods of running. With its demand for continuous activity, hockey is aerobically demanding, but also requires frequent, though brief, anaerobic efforts. 
On average, hockey players have a change in movement patterns every 5.5 seconds during a game. As a result, considerable amounts of energy are utilised during accelerating and decelerating movements combined with repeated-sprint efforts. Nearly 25% of the time during a game, intervals between player sprints are of only 20 seconds or less. Therefore, the movement patterns of repeated-sprint activity are an important fitness component of a hockey team's performance.
Traditional hockey training exercises such as small sided games provide an excellent intermittent fitness stimulus and where necessary, supplementary intermittent training can also be added to team sessions. As an example, the New Zealand National Men's team also include short (10-15 minutes) high intensity fitness sessions at most of their training days. 
These sessions consist of sets of repeated efforts that can vary between 10-60 seconds and have rests of approximately 100% (i.e. if the work effort was 30 seconds long then the rest is also 30 seconds long). Long rests are given between sets to allow for the high intensity to be maintained and active recovery (jogging) during these long rests is beneficial. 
Want to know how your hockey team can utilise GPS tracking as well as heart rate data? Click here to get in touch with our sport science team.


References:
Bishop, D. (2003). Predictors of repeated sprint ability in elite hockey players. Journal of Science and Medicine in Sport, 6, 199–209
Lythe, J. (2006). The Physical Demands of Hockey.