Blog
4 Ways the GameTraka Mobile App Will Help Your Team Play Smarter This Season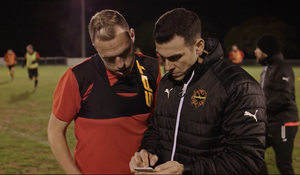 Since the GameTraka platform was made available for smartphones by SPT, coaches and teams have enjoyed the perks of tracking GPS data in real-time. Fitted with the features of the GameTraka website, the convenience of the mobile app has made training and playing so much more competitive and more insightful than ever before.
Coaches no longer have to wait until they're in front of their laptops to see whether players are sticking to the game plan. It's a big advantage to watch live stats – it's like having a personal sports scientist shed light on the things that are going well and which areas need work.
Aside from accessing the usual dashboard functions, there are a handful of reasons why teams have rated the mobile version of the app and shared it with their mates. We've narrowed it down a select few that your team can use and apply straight away – regardless of how far you've gotten into your season.
1. See who's performing at peak
Intensity is one of the biggest markers of player effectiveness. By referring to KPIs like Work Rate, Top Speed and Sprint Efforts, teams have piece of mind that they have the right people in the right roles. View metrics in order from highest to lowest and determine the appropriate volume of High Speed Distance for 'top up running' for subs. And, if certain players are having a bad day, sit them the bench or remind them to pick up the pace so they reach their targets.
2. Analyse quarters and halves
Split the differences between quarters and halves across a series of games or throughout a whole season. Whether it's football, rugby, hockey or gaelic football, it makes a difference to know whether your team start to lag during specific stages of a game. By having the ability to compare live output with past performances, it's possible to take corrective action before bad habits start to stick.
3. Record feedback
It's hard enough managing one player, let alone an entire team. With the GameTraka mobile app, it's easy to provide feedback, add notes and comment on individual player performances once they're uploaded. Save these for discussion at a later date so you can focus on winning a game or running a decent training session. These are safely stored in the system, making it easy to track improvement over time.
4. Set benchmarks…and reach them!
After uploading your data, put athletes of similar ability side-by-side. See who's running faster and working smarter to make a play. Why not view two individuals who are working in the same position and determine who's fitter for the starting spots? As you can see, this information goes beyond increasing the level of competition – it comes in handy for making better decisions on game day. And when that siren rings, you can use the app to build an overall view of the performance picture so that you have a better plan of attack for your next training session.
The GameTraka app is made for iOS and Android devices. To check the full list of features and to get it for your device, head to GameTraka on the App Store or on Google Play. Remember to tell your friends and let us know what you think while you're at it!