Podcast
SPT Half Time Talk Podcast EP #1: Nick Leman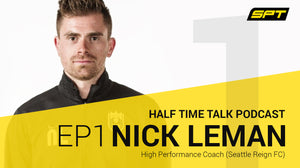 The SPT Podcast kicks off with an in-depth interview with Nick Leman. As a triathlete, coach and advocate for GPS tech, Nick plays an active role in high performance, rehabilitation and return-to-play.
Highly experienced in the field, he currently heads the medical and sports science departments at Seattle Reign Football Club. Prior to his time at Seattle Reign FC Nick was the Rehab Physiotherapist at Melbourne City Football Club.
In his chat with Ben, Nick chats about injury prevention, the future of sports science and wearables in sport.
To learn more about Nick, catch him on www.nickleman.com or on Twitter @Nick_Leman_