Blog
Carolina Rugby9s Tournament Monitoring Performance with SPT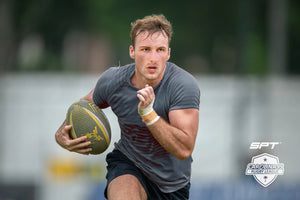 As a global leader of GPS Tracking Technology in the game of Rugby, Sports Performance Tracking is proud to be a partner of Carolina Rugby League and excited to be the Title Sponsor for the upcoming Carolina9s Rugby League Tournament 2019. 
Carolina Rugby League (CRL) and Carolina League Academy (CLA) have used SPT performance tracking systems since 2016, enabling them to deliver affordable, top of the line GPS technology to all forms of Rugby in the USA. With Rugby 9's being shorter and fast-flowing, the demands on players differ to the traditional version of Rugby League. It is crucial to understand these in order to optimize performance outcomes.
Utilizing the SPT GPS units and GameTraka software, CLA has tracked the improvement of rugby clubs, players and referees. Now with SPT GPS Tracking Technology being used for the first time in a USA Rugby League 9s Tournament, CLA will collect accurate athletic data for both Women's and Men's Rugby teams to aid with continued development.
Carolina Rugby League's Development Manager, Andy Lucas, is excited for the inaugural tournament to be using SPT GPS Technology to track performance.
"CLA Development Rugby League Clubs see the benefit of this technology to evaluate the team's performance as a whole, from training to match day. SPT's professionalism, customer service and state of the art GPS technology for our rugby athletes has been incredible thus far. CLA is glad that a company of their calibre is part of our rugby league development here in the USA!"
The presence of SPT at the tournament showcases the importance of performance tracking from both an individual and team perspective. With the popularity of Rugby League growing exponentially in USA year on year, it is vital for clubs to be able to manage their players work load and minimize injury risks.
"We believe that the Carolina Rugby League exemplifies a league that can drive this great game in the United States. We at SPT look forward to working side by side with Carolina Rugby League and Carolina League Academy to continue growth in this great game. We believe this is just the beginning for the sport, their ambitions and for SPT in the USA" says SPT's CEO, Will Strange.
The Carolina9 tournament welcomes both amateur Rugby League & Rugby Union teams, from across the world, to showcase their skills. With SPT recently launching their online SPT University, teams will not only be able to analyse their performance through the GameTraka software but also educate themselves and take full advantage of the analysis platform.
Click here to find out how SPT technology can optimize your team's performance and to find out more about the Carolina9s tournament, head to their website carolina9s.com