Blog
Heart Rate & GPS in Lacrosse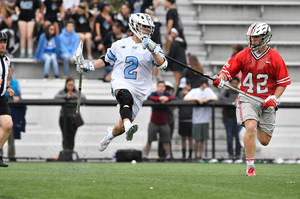 What happens during a lacrosse game? How far do players run? How many times do they sprint? Or how much distance do they cover running at high speeds? What about the average heart rate and how much time do they spend in various heart rate zones? In essence, what are the physical demands of the sport?
Understanding the game demands of any sport is key to designing and conducting practices and training sessions to prepare players to compete at high levels.
In a previous blog the GPS metrics of lacrosse were shared. A recent research paper (Akiyama et al. J Sports Sci Med, 2019) has now included both GPS and heart rate data from the Japanese national team. This coincides with our new feature of integrated heart rate with the SPT2; thus providing information on both external output and internal load (how the body responds to the external load).
The average total distance covered ranged from 2743 yards (midfielders) to about 4000 yards for attackers and defenders (overall team average = 3474 yards). The amount of high speed distance was about 1100 yards. The team average work rate was 103 yards/min with attackers covering 73 yards/min while midfielders covered 123 yards/min.
The average heart rate was 77-85% of max heart rate (HRmax) and the average percent of time spent in various heart rate zones is shown below.



How are you preparing your athletes? Is it based on game demands? If you are not measuring, you are guessing.
Check out the SPT2 GPS system and the new heart rate integration. Trusted by the US Lacrosse Men's and Women's National Teams – official partner of SPT.