Blog
Mjøndalen IF Beating the Odds with SPT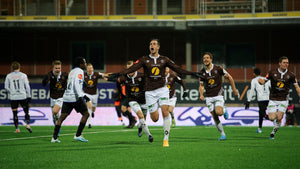 After promotion into the Eliteserien, Norway's top flight football competition, SPT client, Mjøndalen IF had the odds stacked against them in the last game of the season.
The team was involved in a remarkably dramatic end to the season with the bottom six clubs in a relegation dogfight. Heading into the final match day, none of the relegation spots had been confirmed and all the teams were still in danger of going down. 
Mjøndalen had to win at home against Vålerenga to have any hope of playing in the Eliteserien next year. The first half was a tight affair with some big chances for both sides but none that found the back of the net. 
Fitness proved to be the difference in the second half when the strong efforts of the Mjøndalen team finally brought about a goal in the 53rd minute. A corner fell into the feet of Fredrik Brustad who guided his shot into the corner and sent the whole of Mjøndalen to heaven! The team's conditioning has stepped up a level with the use of SPT GPS tracking providing the coaching staff the data to monitor their players' load.
The team managed to hold on to their lead when the final whistle blew and the result put them above relegation but their place in the Eliteserien was still not secured. Tromsø FC could still send them down into relegation if they scored and so a very nervous 5 minute wait began on the Mjondalen bench. Coaching staff were glued to their phones as the match results came in.
A cheer was released and everyone at the stadium unleashed their joy. The result meant that Mjøndalen had ensured their safety by virtue of a goal difference of -14 compared to Lillestrom FC's -15.
Player, Christian Gauseth paid tribute to the Mjøndalen environment for this year's achievement. "We are a group that is mentally very strong. We have been under the line for a very long time. We have fought and still, we stand here as an Elite Series team in 2020.
"It is a relief and joy that I find difficult to describe. We've been living with this pressure since the series started, and before that, too", says Mjøndalen coach Vegard Hansen, calling the last eight to ten games "stressful."
"We knew we had a good chance against Vålerenga, and I think we were better than them today. I told the guys that this team is good enough to be the Elite Series and they have proved it today" he added.
To learn more about using GPS player tracking in football, click here.