Blog
NCAA Soccer Champs Talk GPS Tracking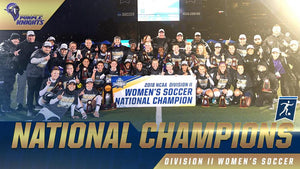 On December 1, 2018 the University of Bridgeport Women's Soccer claimed the 2018 NCAA Division II Women's Soccer National Championship with a 1-0 victory over previously undefeated Grand Valley (MI) State University.
Shortly after the season, we caught up with assistant coach Barry Beattie who provided us with some insight into how the Purple Knights utilize SPT GPS technology during the season.
SPT: Can you briefly explain how you utilize GPS tracking to monitor athletes during practice and games?
We aim to tailor the practices to a specific type of data, e.g. predicted number of full sprints during a specific session. The data will then be a measurement tool to see who managed the maximum levels.
Games are different for us as we use GPS to track how much distance is covered, highest work rate, speed zones, maximum intensity, etc. These stats are compared positionally as different positions require more or less movement based on our tactics.
SPT: What advice do you have for coaches not using GPS?
The SPT GPS trackers are an excellent tool for measuring your top athletes against the rest of the players. Players can be held accountable for not giving maximum effort.
Psychologically, the players react positively when they turn their tracker on and go to work. They know they're being tracked so they give that little extra effort.
SPT: What advice do you have for coaches implementing GPS for the first time?
First, get familiar and play around with it – experiment with sessions and aim for specific results. I guess different people will look at different metrics but I'd recommend them to anyone that is serious about measuring their team in every way – speed, distance, intensity.
SPT: Any final thoughts?
SPT GPS has definitely aided our team's development and took us up another level. It was also a great learning tool for the staff that aids in practice and game planning and decisions.
Interested in levelling up your team with SPT GPS? Click here for exclusive team pricing.