Blog
SPT Partners with Elite FF to Support Female Football Development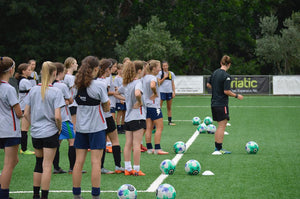 Leading into the 2019 FIFA Women World Cup, we caught up with Caitlin Friend who has represented Australia, Melbourne Victory, Notts County and most recently the Golden boot winner of the 2018 NPLW Championship winning team, the Bulleen Lions.
Caitlin's many years in the football industry has led her to founding and developing Elite Female Football. Elite FF provides an environment where girls can learn from the best coaches and trainers in the football industry, and have access to professional facilities.
Using SPT GPS technology in their advanced summer clinic, the players were able to collect performance data, usually reserved for teams at the professional level. Providing exposure to GPS data and the advantage of sports technology to the girls gives them valuable insights into their performances. It helps them set targets they need to reach in order to make it at the professional level and achieve their aspirations. Tracking speed, work rate and intensity during the advanced clinic, we saw the girls generate some amazing results, with the highest Top Speed of 25.83km/hr being achieved over the three days.
Caitlin said her journey and love of football started in quite a random way as she "didn't really have any family pushing her into soccer". She instead saw her best friends at school getting into football and decided that she was going to join a team as well, and her "love of football just started from there".
At 19, Caitlin was recruited by Notts County in the UK to play in the English FA WSL league. The experience was a very positive one for her personally and her career and described how "intense it was to suddenly be training everyday" and how "eye opening it was in terms of the pressure, professionalism and the training load involved".
Caitlin's love of football has grown into a dedicated passion for coaching and seeing women achieve in football. She got the opportunity to coach a "young girls team in Seattle, USA" and saw that the rise in talent from when she first started coaching the team to when she finished was an amazing progression. Previously the girls did not having access to "coaches who believed in them, facilities or equipment", and all Caitlin had to do was provide the girls with some "simple and encouraging coaching" and saw the girls improve dramatically. Her passion for coaching developed from there and all she wanted to do moving forward was coach more.
This love of coaching led to the creation of Elite Female Football. Caitlin grew up playing football with boys being coached by male coaches and found she wasn't being taken very seriously. She "saw a lot of girls have missed opportunities and missed potential because coaches were not taking them seriously". This drove Caitlin to give girls the platform to access "good grounds, coaches that want to coach them, equipment that gives them the right resources and tools, and apparel that makes them look professional". With these core fundamentals, Caitlin believes that if she can provide that to girls all over Australia through the Elite FF programs, then she can give "girls the opportunity to reach their potential".
With more and more teams in the modern game incorporating sport science into their strength and conditioning programs and using the valuable data of sport GPS, players are able to perform at their peak throughout the season and avoid career altering injuries. Caitlin believes GPS technology is "super crucial, because it drives the player more" and allows them to study their stats, and see exactly what they "did out on the field. It gives measurable goals to work towards and helps players train harder and in specific areas".
Elite FF has made it their mission is to help facilitate the women's game by providing a platform to enhance and challenge young players in order to reach their potential and SPT is proud to support them on this journey. Elite FF are literally and figuratively kicking goals and the future looks very exciting with Caitlin planning to make their programs "portable and accessible, so that it can reach rural areas. This is so that everyone has the opportunity to experience and learn from Elite FF without having to travel far distances".
For more information on the Elite FF academy, clinics and training programs head to their website.
To see how SPT technology can help you and your team simplify the path to success click here to find out more.