Blog
Patriot League Champions using SPT Technology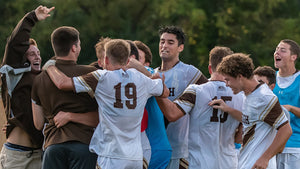 With a soccer program that has been on the rise for the last three seasons and having earned the 2019 Patriot League Men's Soccer Championship, the Lehigh University men's soccer team has firmly established itself among the competitions best.
Before the 2019 season, Lehigh University introduced SPT performance technology to gain more information about their players training and game day habits. With the team already having a very hard working mindset, they wanted to prioritise their fitness levels and knew GPS tracking was an important component for managing their players work loads.
In his role as the team's Assistant Coach, Chris Tadley uses the technology to easily get up to date data and information about how his players are progressing and in planning preparations for the season and each match.
"We have had a very good experience working with SPT's technology. From the very beginning the staff at SPT has been very involved and helpful through the experimentation stages for me," says Tadley.
Tadley and the team focus on a handful of metrics that enable them to reliably gauge the intensity of matches and ensure that they can replicate that intensity in training. This helps to ensure that the athletes are physically prepared to meet the demands of competition.
"We look at the mileage, intensity, hard running, and sprint effort metrics to tell us the most about our players. Mileage helps us compare positionally where we want, like for like players to be. Intensity is important to see everyone in comparison in training. Hard running distances and sprint efforts help us see who is moving where and at what pace which is very beneficial for us," Tadley explains.
"This has been a wonderful season thus far using our SPT GPS tracking devices. They are very simple and it's easy to use and apply data on a daily basis to benefit our players and soccer program."
To learn more about using SPT tracking technology at your soccer club, click here.