Blog
Social-Distancing: How To Keep On Track With Remote Training Sessions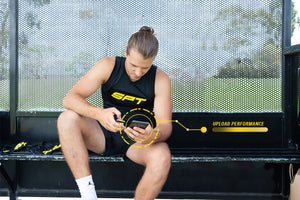 With an overwhelming number of sporting clubs and competitions shutting down or temporarily suspending activity due to COVID-19, there is a growing need for athletes to complete sessions remotely.
The ability for coaching and S&C staff to track, quantify and assess remote sessions becomes a powerful tool and one that also serves to provide a high level of service to our athletes during these times.
Individual or small group sessions are hard, they can be fairly isolating and monotonous for athletes undertaking them. At the very least, with an SPT2 device athletes will have a tool to provide motivation and accountability.
This period can serve as a 'maintenance' block for fitness qualities that coaches have built up over the course of pre-season training or it can serve as an 'intensification' phase to gain an advantage over a competitor who may be resting. 
There are many advantages to coaches having an external load monitoring tool at their disposal:
They can understand long term athlete loading and how it relates to their modified annual plans.
Compare athlete output session on session then week on week to track progression and status.
Compare similar athletes undertaking the same sessions.
Promote friendly competition amongst team mates.
The 5 step process outlined below is a simple way for coaches to gain and understanding of a session that athletes are completing on their own (or ideally in small groups).
Coach creates a 'Shell' event via the GameTraka App, press the 'New Event' button on the home screen of your GameTraka App.
Athletes complete remote session using their own SPT2 device (Note: Athletes MUST complete the specific remote session on the same day).
Athlete downloads data off SPT 2 via 'offline' mode in the SPT Bridge
Athlete uploads their performance directly in to 'Shell' event.
eg. Remote Training Session on dd/mm 
Coaches can assess and report on the session as a whole and assess individual athlete output.
Our Sport Science team at SPT and customer support are here to facilitate your athlete training programs and assess outcomes no matter what the scenario.

The GameTraka platform is set up to cater for a range of unique workflows, contact us today to see how we can help improve your athletes fitness levels, even during this challenging time.