Podcast
SPT Half Time Talk Podcast EP #7: Rob Whitacre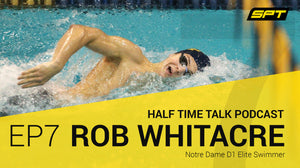 In this episode of the Half Time Talk podcast, former Notre Dame Division 1 elite swimmer, Rob Whitacre. 
Rob discusses being a Collegiate student athlete and now how he uses his experiences to help coaches across the U.S. improve and develop their athletes through performance tracking and analysis.
Listen to the episode below:
Click here to chat to our team about integrating GPS tracking at your club.