Blog
SPT Tracks Top Lacrosse Players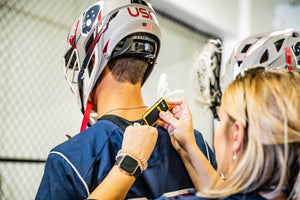 SPT were on hand during the Team USA Fall Classic at the US Lacrosse Headquarters in Sparks, Maryland to track, measure and compare the country's top athletes. The action packed event was the first major event that the US Men's and Women's National Teams were able to utilise the SPT2 GPS Trackers since partnering with SPT.
Fans had the opportunity to watch the national teams take on Canada as well as catch the 2019 NCAA Women's (University of Maryland) and Men's (University of Virginia) National Champions. The new US Development teams (Select U15 and U17) also made an appearance, playing in games against the Canada Youth National Teams from Ontario. 
On Friday, the US Men's Joe Nardella scored with only 19.6 seconds remaining to seal the deal with a game-winning goal. This was part of a four goal comeback by Team USA, making the final score 7-6. As for the Women's team, the US dominated the second half, scoring on 12 of 14 shots on goal and finishing the game with a score of 16-4.
On Saturday, the US Women kept the heat coming, dominating Maryland 20-7. The NCAA champs dug deep in their next game against Canada, winning 12-8. Later that day, the US Men took the win over UVA with a score of 11-6. UVA had a tough task in taking on the Canadian National Team immediately following their game against the US - talk about training load!  They started off hot, leading the Cavaliers 8-5 at the half, but Canada took advantage of the UVA fatigue and dominated the second-half, winning 16-10. Finally, the newly formed US Select Teams (U17 and U15) swept Team Ontario on Sunday claiming the Brogden Cup.
Things got interesting when the US Men's and Women's National Teams took on Canada late Sunday afternoon. The teams abided by the new trial rules developed by World Lacrosse in an effort to put the sport in a position of being included in the Olympics. In this format, the field is shortened and there is no stoppage of play after each goal. The players adapted well to these new changes, with the Women defeating Canada 16-7 and the Canadian Men defeating the US 23-18.
The Senior US Men's and Women's Teams wore the SPT2 Devices in all of their games. Staff at US Lacrosse were most interested in viewing how game demands differed from the normal format. Any differences the staff finds will impact training and game-plans when heading into international competitions. 
Overall, it was a fantastic event! We are excited for future US Lacrosse tournaments, the on-going partnership, and to watch the sport continue to gain popularity!
Click here to learn more about using GPS technology for your Lacrosse Program.