Podcast
SPT Half Time Talk Podcast EP #4: Anna Drayton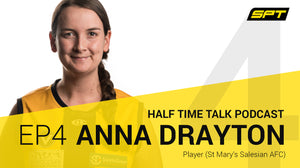 In the forth instalment of the SPT Half Time Talk podcast, we introduce Anna Drayton - a player in the womens development team at St Mary's Salesian AFC.
Chrissy chats to Anna about her own experiences with Australian Rules Football in the sub-elite level as well as the growth and development of the women's game.
The SPT Half Time Talk Podcast is also available on Apple Podcasts.