Blog
UCSB Gaucho Soccer Partner With Sports Performance Tracking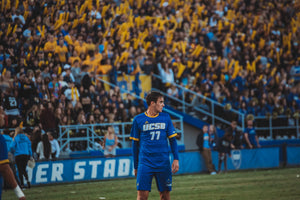 Soccer Heaven, does such a place exist? Nestled 100 miles up the Pacific Coast from Los Angeles you will find Isla Vista, home of the University of California, Santa Barbara Gauchos and Soccer Heaven.
Maybe it is the cool ocean air, the perfectly cut grass or the sound of 10,000 thundersticks booming through Harder Stadium. Whatever it is, it is hard to deny that THIS IS SOCCER HEAVEN. Of the top 10 most attended NCAA games in history, UCSB has played in 7 of them with a few games drawing more fans than MLS matches. Home to the most passionate fans in collegiate soccer, this place is majestic.
Earlier this year, SPT met Coach Tim Vom Steeg and his staff in Soccer Heaven. Walking through the halls covered with trophies, awards and championship plaques, you could feel the energy that this program brings. The rich and deep alumni from Rob Friend, Thiago Martins and Chris Pontius still echo in the halls.

As UCSB looks to pursue another NCAA National Championship, Sports Performance Tracking could not be more excited to welcome Gaucho Nation to the SPT Family. We are proud to be part of Soccer Heaven.


Interested in using SPT GPS technology for your team? Click here to learn more.