GPS 101
It's Finals Time! Prove Your Place…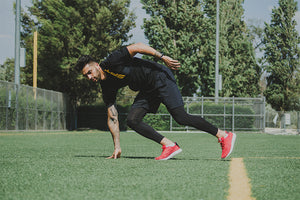 You've been training hard since the start of the season, waiting and hoping that your coach will see you pushing further and harder than ever before.
But simply waiting for your coach to notice your improvement come finals time will not produce the same effect as showing your coach actual proof of improvement.
That is where SPT GPS comes in.
SPT's cloud application, GameTraka, gives your coach the ability to analyse and compare your performances over the season and get real facts on your personal performance improvement. The comparison features on GameTraka also allow your coach to compare your performances with another team mate jostling for the same starting position. Let your performances determine who steps out onto the field.
Ben Sharpe, our leading Sports Scientist recommends on aiming to improve around 10% on metrics such as Sprint Efforts and Hard Running from the start of the season to finals time. Setting metric benchmarks allows you to safely track the volume and intensity of your training sessions to ensure you are not overloading and risking injury as well as preparing yourself for the demands of a match. If you are continually hitting these benchmarks throughout the season, then it proves you are capable of performing the physical workload required and deserve a spot in the finals.
It is important to set benchmarks that are based on your match data, in relation to your position and in preceding training sessions. An important quote to remember that if it doesn't challenge you it won't change you.
To get a better understanding of SPT's metrics and the types of benchmarks you should set for yourself and your position, our Sports Science Hotline (+613 94157466) will put you in direct contact with one of our Sports scientists who can run you through any questions you might have!
Ryan Edwards, Head Physio at the Bentleigh Greens utilises SPT GPS to make sure they can compare trainings with games in order to ensure their players are reaching the same or bettering the benchmarks they achieve in training. Through successfully implementing SPT GPS data in training and matches, the Bentleigh Greens have recently cemented their place in FFA Cup history as the sixth NPL team to ever defeat an A-League team. Bentleigh knocked out Wellington Pheonix 1-0 in a glorious win for the underdogs.
To view testimonials from many more of our happy customers you can visit our testimonials page.