Blog
The Pararoos Are Changing The Game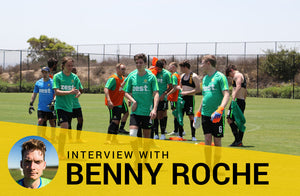 Recently SPT caught up with Benny Roche, Vice Captain of the Pararoos. Benny was born with Cerebral Palsy and joined the Pararoos when he was 11. Ben is incredibly passionate about the Pararoos and the importance of continuing programs for disability footballers. Keep reading to find out more about the Pararoos journey and the exciting future they are heading towards.
1: The Pararoos just came back from the Tri-nations tournament in the US, that must have been very exciting for the guys, especially for the younger members of the squad! How was the overall experience over there?
The experience was great! We don't often get game time together outside of major tournaments so to have the opportunity to play competitive games in the lead up to the Asian Cup will have a huge impact. We look a fairly young squad with 3 or 4 players making their debut which is always a huge honour. it gave them an idea of what is needed to be in the National team and to stay there.
2: You've got the Asia Cup in Iran coming up in November, how are preparations going? And what do you anticipate from the tournament?
Preparations are ok, we are fairly limited compared to the other nations due to funding etc but the guys are all working extremely hard to be in the best shape possible for the Asian Cup. We have a training camp at the end of September, Nationals mid October which allows identification for any late comers and then a pre departure camp just before we fly out to Iran.
We need to finish top 2 in Iran to qualify for the World Cup in Madrid next year, so their is lots riding on it. Iran is currently sitting number 3 in the World so for us their are some big challenges ahead. I am confident we will push each team we take on.
3: With pressure of World Cup qualification on the table, what are the teams favourite ways to focus and also relax in their downtime?
Being that we get limited time together we always keep each other in check. Communication is vital in making sure we are all on the same page. No player wants to come into camp under prepared and let the team down.
In terms of relaxing we have a great little family within the Pararoos, we always make sure we enjoy our time together and always try and have a laugh. We get together play cards and make sure we don't just have our heads in our phones.
4: It's great seeing the Pararoos shining on the world stage, and now you have a documentary showcasing the teams endeavours. Can you tell us a little about it and what audiences will expect?
It's super special. Filmmaker Tom Ferguson followed us for about twenty months and what started out as a football film and funding story turned into so much more. From sacrifices individuals have made, mateship, mental health, growing up with a disability all whilst following our Journey at the World Cup in Argentina lastyear. A really raw, fly on the wall kind of film catching all the highs and lows.
Select screenings across Aus at the moment but it's already won a few awards and hopefully on mainstream Television soon!
Trailer: https://www.facebook.com/Pararoos/videos/1748466781899721/
5. What have been the major hurdles the team has had to overcome on their road to the Asia Cup?
As I mentioned funding is a big one. We lost 100% of government funding in 2015 so since then have been working tirelessly to raise funds for the program. We rely on tax deductible donations through the Australian Sports foundation. We compete against professionals or semi professionals so its a big jump. the film captures quite nicely what we are capable of with a small increase in support.
6. The guys have been using the SPT 2 devices during training and in games, how has your personal experience been using the device and what have been the major points of interest gained by the squad as a whole using their SPT devices?
SPT2 are awesome! I was lucky enough to have the original SPT1 and to track my games in Argentina. We cover some decent km's in 7 A side so nice to have more data on what we do. I found it really valuable in being about to share with S&C team. The boys got a small amount of use of the units in America and are now utilising them at home with staff checking in to make sure we are on track for Iran. Big fan of the phone app. Brings out my competitive streak in wanting to better my results.
In 2015, after the Australian Sports Commission withdrew all government funding, Football Federation Australia partnered with the Australian Sports Foundation to establish a tax-deductible fund to raise money to support these extraordinary players.
A target of $375,000 has been established to fund the Pararoos 2019 World Cup Program including national camps, international tournaments, and sports science and coaching.
This tax-deductible fund will raise money to support Australia's elite footballers with disabilities to ensure they can represent the green and gold at the highest international levels.
The Pararoos are ready to qualify for their 2019 World Cup. But they need your help.
The Pararoos are now calling on you to stand with them and donate to their campaign.
Head to this link to donate and support this amazing team: https://asf.org.au/donate/pararoos-road-to-2019-world-cup/