Blog
La Cañada Soccer Team Utilizing GPS Technology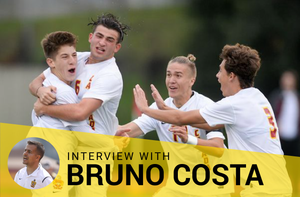 Founded in 1963, La Cañada High School is located in La Cañada Flintridge, California and has an enrolment of 2,085 (2016). Historically, La Cañada has one of the most successful boys soccer programs in the Rio Hondo League but until 2016, they had not won League in over four years. Coach Bruno Costa took over head coaching duties heading into the 2016/2017 season with very low expectations.
Bruno brought in a lot of new elements to establish a stronger soccer culture, one typically seen at the professional level. One of his first purchases was GPS from SPT.
The coach led the Spartans to a 14-5-6 record and a 7-0-3 mark in league, as the team surprised many and captured the Rio Hondo League championship for the first time since 2013. They also advanced to the CIF Southern Section Division V semifinals and the Southern California Regional Division V tournament. With the success achieved by the Spartans under his coaching, Bruno was also named All area boys coach of the year by the LA Times. The Spartans followed their incredible form in the 2017/18 season, where they lost only one game in league and finished in second place in the Rio Hondo league before going to playoffs.
We met up with Coach Bruno Costa to chat about how he and the team utilize sports performance technology in achieving real positive results.
Bruno, how are you using SPT's GPS tracking?
In year one it is was all about data collection. We literally were guessing how far players ran in a game or how intense their efforts were so when we first got GPS we were able to objectify players outputs to understand the demands of a match. For instance, in the semi-final CIF match, our most intense game of the year, we were able to see some of our players ran over eight miles in a single game. This was helpful because it set a mark at which we can compare all other performances to.

We also have used GPS to compare players to each other through GameTraka. This gives me some tools of measurement when comparing our players and evaluating them against their peers.

In the second season, we focused on comparing ourselves from game to game as well as the opponent we played against. When we played Monrovia High School, our biggest rival, I compared our match in 2017/18 to our match in 2016/17. Simply put, our intensity was not at the level that we played them the year prior. I can objectively show players that we are not doing enough and that we can compete at a higher level.
What data points are most valuable to you?
Intensity is the best measurement but it is really valuable to look at running zones, total distance, sprints… actually all of them are really helpful. It depends on how you treat the data.
How do you plan to use SPT GPS this year?
I want to create practices that are close enough to game situations based off of the GPS data. I would like to build new drills based on game type situations like space, time, distance and intensity so that we are ready for the game.
Interested to discover what SPT sports GPS tracking can do for your team? Click here to find out more.