Podcast
SPT Half Time Talk Podcast EP #3: Adam Centofanti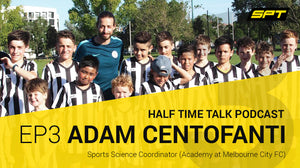 This week, we have another good instalment to add to the SPT Podcast. We caught up with Adam Centofanti, Sports Science Coordinator at Academy (Melbourne City FC). Adam comes from a wealth of experience in the coaching department. As a specialist for Strength and Conditioning for soccer (football), his level understanding starts from the juniors and works its way up to the elites.
Ben and Adam dive into the challenges of performance amongst youths and elites, and the landscape of performance management across Europe, the US and Australia.
Hope you found this as interesting as we did! If you'd like to keep the conversation going, you can reach out to Adam via LinkedIn.